ConnectMe Unified Conferencing
CloudUC's new ConnectMe service represents a revolutionary new multi-media rich way businesses can communicate with their customers, prospects, co-workers and partners! With a simple click of a mouse or a touch on a tablet, people will be able to connect to ConnectMe enabled businesses and communicate using voice, video, secure IM or even desktop sharing!
ConnectMe doesn't require any client software and runs on any HTML5 compatible browser and broadband connection. Sessions can be initiated with a simple URL link which can be embedded in a webpage, Facebook/Twitter page or even in an email within a person's signature block!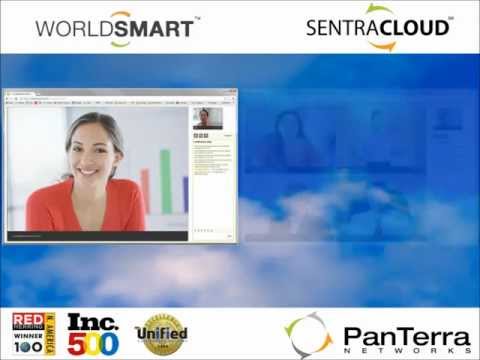 ConnectMe Conferencing Overview
ConnectMe users can initiate a one-to-one session with another person or bring together multiple people in a multi-media rich video conferencing session supporting an unlimited number of participants. And multiple participants can share their desktop or presentations simultaneously! ConnectMe takes collaboration to the next level. Sessions can be initiated ad hoc at any time or scheduled on a calendar as a one time or recurring event.
Maintain complete control over your ConnectMe session with complete moderator controls. Individually mute audio or block video from any participant in the conference or mute/block all participants at the same time. Individuals have complete control over their own audio and video as well and can even conduct one-to-one chats with individual participants in the session.
Moderator Controls
ConnectMe also supports powerful cloud-based session recording (must be a WorldSmart user). Record any participant's session, including audio and video. All recordings are stored in the user's SmartBox storage and can be shared with anyone. Playback can be done in a standard media player or in a playback ConnectMe session.
Are you losing prospects and customers because it's too hard to get a hold of your company? Tired of making people memorize phone numbers and web addresses? Want to make it super easy to connect with your company? ConnectMe makes communicating as simple as a click of a mouse or a touch of a finger! With ConnectMe, your customers, prospects, co-workers and partners can connect to you by simply clicking on a URL link which can be embedded on your website, Facebook/Twitter pages and even in your emails on your signature line.
1 Click Connects You to Your Customers
Anyone can now connect with you without entering phone numbers, email addresses or IM names! Just click and connect! And once connected, you can interact with voice, video, screen sharing and/or secure IM, all within the same session! With ConnectMe, businesses have a revolutionary new way of communicating.
Move your
communications

to the cloud
Web Conferencing
Schedule meetings in advance or start an instant online meeting and invite people to join with real-time cloud-based web collaborations. Web collaboration allows businesses to have a richer communication experience with their customers.
Without investing in hardware or software, you can initiate a web conference from your WorldSmart secure IM client. People from any part of the world can join your conference from the web. You can share your presentations, documents, desktop or demonstrate your products to your audiences from anywhere even when you are on the road. Collaborator's web conference has just the right features to enhance internal communications and keep connected with customers and partners.
WorldSmart Collaborator's Web Collaboration key features include:
Up to 20 Web Collaboration participants per session
See all participants and how long they have been in attendance
Invite additional participants during a session
Dynamically and instantly give control of the session to any user with a click of a button
Whiteboard feature including multi-color, multi-weight pen drawing, erasing and highlighting
Partial or whole screen sharing
Draw arrow and draw text capability
Zoom on portion of the screen
Integrated group chat window
Audio Conferencing
Audio Conferencing - the backbone of conference room communications. CloudUC has you covered with exceptional conferencing capability and quality. Conference over 25 users together with zero echo or distortions. CloudUC provides both personal and office conferencing with dedicated conferencing numbers and secure password protection. CloudUC conferencing supports standard SIP-based conferencing phones.
Move your
communications

to the cloud
Group IM/Chat
CloudUC provides secure group chat/IM capabilities built-in to the UCC interface. Easily create dynamic or static groups and initiate a group IM with them at any time. Add or remove users easily. Convert any group IM session into an audio conference with a click of a button.
Deskshare
Making presentations easier and faster, sharing information more effectively, and updating customers and business associates with momentum, collaborator's desktop share enables you to conduct business smarter. Whether you are having a phone conversation with your remote colleague, or conducting a weekly conference call with your staff, within seconds and with a simple click, you can show your desktop to your colleagues and staff. Share documents, presentations, and even a live demo running on your desktop. Collaborator's desktop share allows you to always stay ahead of the game.
CloudUC's Desktop Share key features include:
Share your desktop with up to 25 other WorldSmart users at once
See all participants and how long they have been in attendance
Invite additional participants during a session
Dynamically and instantly give control of the session to any user with a click of a button
Whiteboard feature including multi-color, multi-weight pen drawing, erasing and highlighting
Integrated directly into CloudUC's Unified Cloud Communications (UCC) Panel